a film by Bo Persson & Joanna Helander
"It is a journey to the end of the night and back again into the present, a
moving and poetic recreation of the history of our times, of birth, death
and resurrection."
Walter Laqueur
Returning is a film about exile and creativity, about memory and
forgetfulness. The photographer and writer Joannan Helander was born in 1948
in a Polish-German-Jewish family in Schlesien (Upper Silesia), the border
lands of southern Poland.
Joanna Helander, while a student at the university in Kraków, was arrested
first in March 1968 and then again in the fall of the same year and
sentenced to prison for having protested against the invasion of
Czechoslovakia. In 1971 she emigrated to Sweden.During the 1970s and 1980s
she made numerous trips to her native country and depicted in pictures and
writings the complex and contradictory life in Poland.
In this film she travels in Poland and Germany, and through the layers of
time, to try to discover what happened to her Jewish relatives who
disappeared during the war. During these travels she keeps up a continuous
imaginary dialogue with her dead father, Gerard K. His voice guides her on
this journey through contemporary Poland and the apocalyptic world of all
those who suffered directly or indirectly in the Holocaust.
The cinematic construction of the film is an elaborate interplay of
pictures, original music, dialogue and poetic narration. The film blends the
dramatic, the lyrical, the grotesque, the absurd and the humorous.
Original title: Återkomster
Directors and Screenwriters: Joanna Helander & Bo Persson
Directors of Photography: Jacek Petrycki, Jacek Blawut, Krszysztof Pakulski
a.o.
Still Photographer: Joanna Helander
Narrators: Stina Eblad, Bruno Ganz, Jan Malmsjö
Narrators German language version: Jutta Lampe, Bruno Ganz, Otto Sander
Music by: Zygmunt Konieczny, Giora Feidman
Sound: Owe Svensson, Krszysztof Suchodolski
Editors: Dorota Wardeskiewicz, Ewa Smal, Darek Hodor
Producer: Kino Koszyk HB in co-operation with the Swedish Film Institute,
Swedish Television, ARD, ARTE
Production year: 1994
Running time: 60 min
Some voices from the press after the theatrical release in Sweden
An expressive, artistically remarkable and successful attempt to unite personal and private experiences with a larger European, collective fate. An unusually beautiful example of film poetry rich in content. A strong film."
Jan Aghed, Sydsvenska Dagbladet
A truly convincing testimony of our European reality."
Dagens Nyheter
The film is made with a lyrical realism which affects one deeply – a clear little poem next to brutally concrete Schindlerian lists."
Bernt Eklund, Expressen
Poland is a society in a state of breakdown, but at the same time it is appealing and mysterious. Against the impenetrable past, relatives, friends and artists form a protective ring around Joanna Helander. She finds vigorous people everywhere on her continuous journey between Sweden and Poland. Despite the odds, it is a happy return.
Jeanette Gentele, Svenska Dagbladet
A masterpiece. Returning is a profoundly personal depiction of Joanna Helander's search for her past and that is precisely why it is more universal than the TV-series 'Holocaust' or 'Good-night Mr Wallenberg.' By blending a mythic-poetic narrative with the strictly documentary, Helander and Persson enable us not only to see a 'truth,' but also to be touched and emotionally involved."
Aftonbladet
Helander's and Persson's melancholy, tender, frightening and joyful personal documentary. A powerful film experience!
Kvällsposten
A gripping and melancholic film. A highly recommended poetic pearl!"
Nordvästra Skånes Tidningar
---
Special Prize of the International Jury, Karlovy Vary, Czech Republic, 1995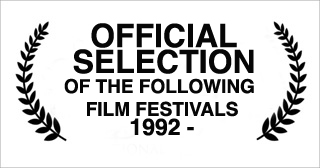 ---
Karlovy Vary Internationella Film Festival, Tjeckien
Nordiskt Panorama, Finland
Jerusalem International Film Festival, Israel
Munchen International Documentary Film Festival, Tyskland
Washington D.C. International Film  Festival
Göteborgs Internationella Filmfestival
Stockholm Internationella Judiska Film festival
Amsterdam International Documentary Film Festival, Holland
Strasbourg International Film Festival, Frankrike
Katowice Internationella Kulturfestival, Polen
Balticum Film Festival, Bornholm, Danmark
Pärnu International Film Festival, Estland
Baltic-Scandinavian Film Festival, Gotland, Sverige
Torino Internationella Film Festival, Italien
Györ International Film Festival, Ungern
Lodz International Film Festival, Polen
Bretagne Internationella Kulturfestival, Frankrike
Visning i den europeiska kulturkanalen ARTE i Tyskland, Frankrike, Belgien & Schweiz & ARD i tysk språkversion med Jutta Lampe, Bruno Ganz och Otto Sander samt i skandinavisk och polsk TV m.m.